How does Covid 19 effect global water filtering industry
2021.06.11
1. Introduction
Still remember last time writing the article「2020 Global household water purification equipment market analysis and forecast」, that was the time when Covid-19 began raging around the world. At that time, Taiwan prevent the virus very well, for the whole year Taiwan residents are all in peace and safe. But in April 2021, an airline pilot infected the virus and caused community infection. During this time, about 200-300 Taiwanese confirmed infected every day. Until 12 June 2021, numbers of confirmed infected case already came to 12,746 people and number of death came to 411 people; this give Taiwan a huge pressure as a role model for preventing virus. Only then, I urge to write this article to share with you.
Reference: Formosa TV News
2. Covid-19 creates unexpected effects
As the virus keeps spreading worldwide, many countries choose to close certain cities for safety. But what we didn't expect is that it brings up stay-at-home economy, also working from home and study from home creates the needs of notebooks. In 2020, for the very first time global notebook shipments amount over 200 million. And the global transportation market is out of control due to the epidemic. The workers at container yard pier got infected, no one controlling the cranes, loading and unloading delayed and it messed up all the flights. Container turnover takes longer time, affecting the shipment fee soaring 5 -6 times. However it is still hard to find a container even with a highly increased price; the quarantine time for pilots from Cathy Pacific Airline extended from one week to two weeks, this creates shortage for pilots and cut down flights to the U.S. This effected air shipment fee soaring. No one was expecting this. For manufacturers, this is another headache tragic. As clients are not able to find container for shipping, the goods that ready to go all have to stock in factory storage.
3. Do material shortage and price increase the impact from Covid-19?
From crude、metal、grain、coffee、vegetable and cement, that all raw material seems get into a 「shortage generation」. The pressure of material price increased, from oil price、gold price、steel price、grain price、petrochemicals price… all went up. Everyone just needs a moment to breath. Moreover due to Covid-19, countries locked down, no more traveling. It caused bicycle、sport equipment、outdoor equipment、clothing all in hot sales. The new trend is to shop at home.
1.Cardboard box shortage and price increasing
Cardboard box shortage mainly caused by Taiwan manufacturing economic coming back up, plus the effect of Covid-19 increased the orders for online shopping and also other field exporting increased. The needs for cardboard box increased, but the factories are not able to catch up with production capacity. After Council of Agriculture、Ministry of Economic Affair and PCAT come to a consensus with top three paper manufacturer YFY、Cheng Loong、Longchen that they promised to priority produce the needs for fruits and vegetables. But now, exporting companies have to face the hardship, stock up finished products and no cardboard boxes could do packaging for exporting.
2.Steel Price is coming to a new high level
In 2023, a huge shock about European Union starts charging carbon border ta, therefor China Steel needs to think a way to make it carbon negative that could help lower reaches industry. In order to make it happen, machine equipment is bound to be upgraded and cost for production with definitely increase. Joe Biden - president of U.S. put forward a total investment up to USD $2.3 trillion for 「American Jobs Plan」. This includes, electric vehicle、renewable energy、optical fiber and semiconductor, also expand infrastructure. All this reasons make steel price continue to rise.
3.Plastic material soaring
In Far east, the top 5 general purpose resin price keep increasing, for ABS、PS、PVC in a history record high, also include PE、PP in the peak point for past 10 years;Water filter industry often use the following plastic material, for example: ABS, AS, PP, POM,PC… their price all increased.
4.Why does copper price soaring
For the first time in 10 years, copper price is more than USD $10,000 per ton in London consistently 3 months. Infrastructure plan from Joe Biden - president of U.S. which will also affecting the price of this important material for green energy transformation. Like copper is often used in
electric vehicle、solar energy and wind energy. Meanwhile, China economic are recovered rapidly, construction industry and manufacturing still strong. This made copper price soaring.
4. Everyone is strengthen equipment
With no chance of traveling overseas to visit clients and also all the expo fairs are postponed. We could see that every business owners are smartly using this time to strengthen their internal skills. No matter inputting auto machines or improving production procedure to make quality better;And because of this idea, manufacturers for automation equipment are getting overload business order; almost every order needs at least half year until delivery.
5. Exporting are not effected
Covid-19 is spreading countrywide in Taiwan. Due to the virus, a lot of fields are affected. However not export area, not only it does not effecting export even bring it to better level. Especially in bicycle industry and water filter industry.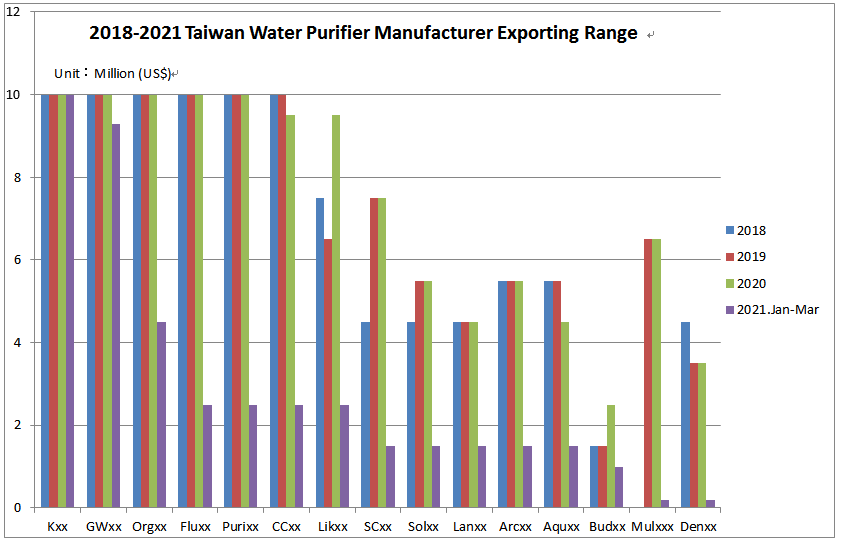 6. Will it be an illusion about the growth?
Everyone seems eager stocking up steel、copper、plastic as the price increased so much, also because everyone expecting the price will keep going up. For most companies in water filter industry are agreed with the idea, so most of companies stock up materials or semi-final products. Everyone seems like full of order、open extra production line, ended up just an illusion. After Covid-19 is that going to be a trouble for everyone about how to sell all the stocks?
Author:Rodger Lin June 12. 2021
「Welcome reproduction,please indicate the resource」
Reference :
CommonWealth Magazine
United Daily News (Udn)
Commercial Times (ctee)
Council of Agriculture (COA)