2023 Taiwan's top five trusted OEMs for water purifiers and water dispensers
2022.11.21
[1] Introduction
At the beginning of the new Coronavirus disease (COVID-19) outbreak in 2020, the author wrote a blog article entitled, "Top Ten OEMs for Water Purification Equipment in Taiwan". Some of these OEMs encountered serious problems with the non-receipt of orders and with their work shifts. As a result, in the past year, this industry has undergone many changes. Some have left the industry due to poor management, and some now owe tens of millions of dollars to suppliers... .
Statistics from previous years and this year show that the total amount of water purification equipment exported from Taiwan has plummeted.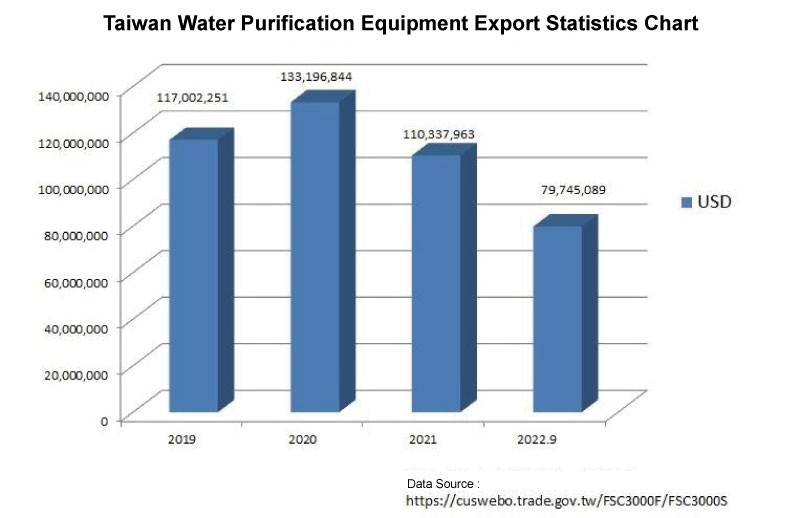 We don't know if the problem that has caused businesses in the water purification equipment industry to plummet is related to inflation, or whether it is related to the continuation of the war in Ukraine. Perhaps, it is related to the things mentioned in the book, "The Fifth Discipline" by Peter Senge. Opinions vary.
[2] The characteristics of Original Equipment Manufacturers (OEMs)
At this point in time, because things are changing, the author has to reorganize and recommend other excellent water purifier equipment OEMs for reference by those who want to participate.
The following five water purification equipment OEMs, despite being small or medium-sized enterprises, are the backbone of this industry. All of them are competing for business and focusing on their own business. Most of them have been in business for more than 30 years and they are all trustworthy and successful businesspeople. Most of the founders of these OEMs have the following characteristics:
1. They are sincere, eager, and willing to help others.
2. Their focus is on the water purification equipment industry.
[3] OEM Product Line Areas
The recommended five OEMs cover a wide range of product lines:
1. OEM of spare parts for water purifiers and pure water machines.
2. Design and assembly of water purifiers, pure water dispensers, and water dispensers.
3. OEM for LCD and LED key electronic components for water purifiers.
4. Design, assembly, and manufacture of electrolyzed water machines.
[4] Distribution and location of OEM manufacturers of water purification equipment
About 60% of the foundries in the water purification equipment industry are concentrated in Taichung and Changhua, with another 20% scattered around Kaohsiung and Pingtung. Another 10% are in New Taipei City, with the remaining 10% located in Chiayi, Hsinchu, Tainan, etc.
Of the five OEMs recommended this time, four are in Changhua and Taichung, with the fifth one located in Kaohsiung.
[5] Advantages of Taiwan water purifier equipment factory
Being an OEM for European and American brand factories is still a major feature of most of Taiwan's manufacturing industry, which is also a strength of Taiwan's water purification equipment suppliers.
Taiwan's water purification equipment suppliers not only have production technical capability, but also have good quality awareness, as well as the ability to make products that are better and cheaper.
Additionally, they are more willing to invest in production equipment and laboratory reliability testing equipment.
These factories also have a different advantage from those in other countries, which is to be responsible: "If they make a promise, they keep to their promise " .
Although those factories costs are increasing, they are still the first choice for major European and American manufacturers.
[6] The disadvantages of Taiwanese water purifier OEMs
1. Because the vast majority of manufacturers are OEMs for European and American brands, overall control of an order is not in their own hands, and there is often the risk of transfer due to a small price difference.
2. High cost of OEM: More and more manufacturing plants in emerging countries are also choosing to enter the OEM business. They have the advantage of lower prices, which can greatly affect orders placed on Taiwanese OEMs.
3. More than 90% of Taiwan's water purification industry manufacturers choose to primarily be export oriented. This is because the population and domestic market in the country are low and the country's domestic demand market is nowhere near as large as that of mainland China (1.425 billion people), Russia (143.4 million people), India (1.412 billion people), Turkey (86.2 million people), Vietnam (98.5 million people)... As there are so many competitors, it is impossible for domestic demand to support each and every production plant in Taiwan.
4. The shortage of workers in, and the unwillingness of young people in Taiwan to move into manufacturing industry, means that OEMs often have orders in hand, but are unable to find technicians to carry out their production.
5. Issues such as the scarcity of land available for setting up factories, etc. have led to rising land prices, which has affected the competitiveness of Taiwanese OEM manufacturers, and which has also indirectly led to OEM manufacturers producing on a small scale.
[7] List of Top 5 Trustworthy Water Purification Equipment OEMs in Taiwan for 2023 [Arranged by the English website of each company]
1.

AQ & Q CO., LTD. (Aquatech)
www.aqq.com.tw
AQ & Q (Aquatech) was established in 1983. At the beginning of its business, it mainly produced woodworking machinery. In 1993, it transformed into developing and producing pump and RO water purification components for pure water machines. The founder, Mr. Zeng, was very persistent and demanding about quality at the beginning of his business. He spared no expense in purchasing an all-electric injection molding machine made in West Germany to produce the components of the four-way valve, in order to stabilize the quality of each product.
One excellent fact about this factory is that it has applied for a fair number of product certifications, including: NSF, CE, RoHS, UL.
The company has always insisted on focusing on OEM/ODM production. The founder has also successfully completed transfer of the business to the second-generation.
2.

Dianapure International Co.

,

Ltd.
https://www.diana-pure.com
Founded in 1997 and with a factory located in Taichung City that covers an area of 700 ping (2,340m2) the company has around 60 employees, specializing in the production and marketing of water dispensers, sparkling water machines, hydrogen machines/hydrogen water machines, electronic faucets, mechanical faucets, electrolytic water machines, and water purifiers and filters.
The company is primarily an OEM for world-renowned brands, with products sold in more than 30 countries around the world, and possesses dozens of domestic and foreign patents, and hase passed dozens of very strict international safety regulations, such as: EU CE, EU ROHS, China CCC 3C certification, US UL & ETL certification, Australia Watermark, Taiwan BSMI, water dispenser energy-saving first-level certification , CNS8088 lead-free leading certification, ISO9001, China Health License and other certifications.
3.

Easywell Water Systems, Inc.
www.easywellwater.com
What makes this factory different from its peers is its responsible attitude:
When I find a quality concern, I will inform the customer every time and recall products in transit, as well as recall product already with the client.
ISO-14001 international environmental protection certification obtained in 2001 (19 years ago), in order to be responsible for the environment.
The factory will be liable for compensation for any product quality problems or negligent service.
The company specializes in dechlorinated showers, water purifiers, and RO reverse osmosis water purifiers. It has developed, designed, molded, and produced up to six models of dechlorinated showers. In fact, it can be said that, in the dechlorinated shower industry in Taiwan the company and its factory are the most professional.
About 50% of Easywell's revenue comes from RO reverse osmosis products, which are mainly supplied to assembly plants in Europe and the United States.
This OEM has also spared no effort in the research and development of key components of Ro systems, with up to 80% of components designed, plastic injected, assembled and tested in house... Even though it costs NT $ 10 million or more a year to develop a mold ... there is little reliance on others and the key components are injected, processed, produced, assembled, and inspected in the company's own factory, so that people can rest easy and sleep at night.
This company knows how to use its strengths and stands on the shoulders of giants when applying for and winning a number of national awards and government recognition:
The 17th Rising Star Award (the first in the industry)
Brand Star Award from the Ministry of Economic Affairs
SME Innovation Research Award
Small and Medium Business Administration Award
In order to strengthen the quality of this factory, the quality of each shipment received by customers is consistent:
1) Although a product laboratory was set up at the establishment of the company, February 2020, saw a total of NT $ 17 million yuan spent on the building of another laboratory and on the purchase of test instruments and equipment, in order to continue increasing the reliability of various laboratory instruments and products in the laboratory. Test equipment, bacteria detection, etc.
2) It obtained ISO-9001 international quality assurance system in 1991, which it has held ever since; using QCC quality control circle, TQM all-member quality control, etc. to ensure quality becomes ever more stable.
3) They also have many certifications in their products:
A number of products (gooseneck faucet, refrigerator special filter ...) have obtained NSF product certification https://reurl.cc/yy5a8D
Four products have won the provincial water mark of the Ministry of Economic Affairs
Awarded Taiwan Excellence Award for five consecutive years
A total of 54 products have passed CE safety certification.
Obtained 91 patents worldwide.
4.

Savant Electronics Inc.
https://www.digisavant.com
Founded in 2001 with a capital of 5 million yuan. Savant Electronics Inc. uses digital monitoring as a checkpoint for safe drinking water and has been a leading manufacturer of flowmeters, focusing on flow sensing, meters and monitors, as well as high-precision, high-quality equipment that has been used in household, commercial, and industrial water filtration for more than ten years.
As a young man the founder was involved with the development of Taiwan's digital technology industry. After training in a listed company, he founded Savant Electronics Inc., which has a broad international outlook and production in the field of computer and electronic technology.
5.

Seven Star Ocean Co., Ltd.
www.sevenstarocean.com.tw
Seven Star Ocean Co., Ltd. was established in 1988 with the factory located in Renwu District, Kaohsiung City. It is a professional R.O. water purifier and water purifier manufacturer, that manufactures mold opening and plastic injection products, including water purifier filter elements, filter housings, cassette filter elements, water purification materials, filling empty tanks, and other assembled products.
Seven Star Ocean Co., Ltd. has done a very good job in terms of the low-cost strategy of products, ensuring it has a niche in order receiving in the OEM/ODM business. In addition to accepting OEM/ODM business, the company is also very skilled at digital marketing, and has its own unique nature for online sales. All major e-commerce channels in Taiwan have Seven Star Ocean products on the shelves for sale.