2020 Global Water Purifier Market Analysis and Forecast (I)
2020.08.09
The author has been working in the water purification industry for 35 years. As much as 90% of his business is exports to a total of 54 countries. He has travelled to 87 countries and about 45% of the time throughout the year he is on the road visiting clients; participating in tradeshows and marketing campaigns; understanding overseas markets; and attending meetings and conferences. The author stays on top of the water purification equipment market and trends in different countries and bring back water samples from all over the world for testing in Taiwan. The results are incorporated in the report and analysis of water quality in different countries. The author's report and market analysis of 18 countries is freely available for downloads at https://ppt.cc/fzKJ2x.
When visiting different countries, the author explores different channels for distribution of water purification equipment (such as department stores, hardware stores, consumer electronics shops and chain stores for water purification equipment). He also visits clients in different countries. These clients include importers, wholesalers, retailers, and manufacturers of water purification equipment. The information obtained from discussions and business dealings with buyers around the world should ensure the objectivity of the market intelligence.
In this report, the author starts with the introduction of the 12 hottest markets for water purification equipment. The discussion is anchored on OEM/ODM players in the water purification equipment industry. This is followed with a detailed coverage and analysis of B2B companies. There are also objective recommendations to readers.
The main contents are as follows:
Advice for investments in these countries
Buying from the right markets
Markets with the most competitive OEMs
Suggestions for new brands to enter these markets
SWOT analysis for different markets
Forecasts for 2020 and beyond
Competitive OEM products in different markets
Tips for doing business in certain emerging markets
Global M&As in the water purification equipment market
Local and foreign brands active in different markets
I. Global Water Purifiers Market Size
Numbers from the UNICEF (United Nations Children's Fund) and World Health Organization (WHO) suggest that about 663 million people in the world do not have access to clean drinking water. The safety and quality of drinking water is extremely important to both governments and the public. This is the reason for the growing attention to water purifiers. According to the report "Forecasts and Opportunities for Global Water Purifiers: 2018", the market size increased at a CAGR of about 10% in 2013-2018.

Meanwhile, the commercial market of water purifiers is also significant. The report "Global Industrial Water Purifier Market 2017-2021" forecasts a CAGR of 5.68% for the market in 2017-2021.
The survey by Global Water Intelligence estimated the global water resources market at US$539 billion in 2013. It grew to US$586.3 billion in 2018, at a CAGR of 3.8% for 2011-2018.
The above statistics indicate the continuous and fast growth of the water purification equipment market.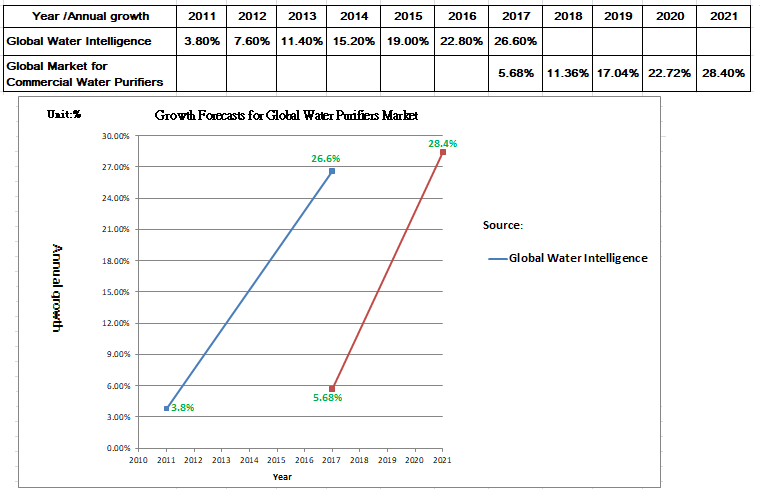 II. Global Supply Chain of Residential Water Purifiers
Almost all the manufacturers in the global supply chain of water purification equipment are engaged in horizontal division of labour, to achieve higher production efficiency and industry specialization, to mitigate over-investments, and shorten development leadtimes.As long as 17 years ago, there were a few well-known and successful industry alliances in Taiwan. These alliances have made contributions to their industries in Taiwan. In addition to regular company visits, they also share knowledge in new products, new materials, and new technologies. They publish research findings and drive industrial upgrades across the value chain. The most successful alliance is A-Team, Taiwan Bike Association. It was the benchmark for all the industry alliances in Taiwan. The following is an analysis on the success of A-Team.
In 2003, the founder of Giant and the founder of Merida proposed to work together in response to the exodus of the bicycle companies in Taiwan and the continued decline in exports. Industrial hollowing-out looked like a real possibility. At that juncture, they invited 11 suppliers to establish A-Team, Taiwan Bike Association. The alliance introduced management tools such as TPS (Toyota Production System), TQM (Total Quality Management) and TPM (Total Productive Maintenance). Member companies visited each other for sharing. This co-competition model accelerated the industry's growth as a whole.
A-Team was formed when many bicycle companies in Taiwan moved overseas. It was also the time when the global bicycle industry witnessed a shrinking market size. However, with the leadership from A-Team, the Taiwan bicycle industry survived the global financial crisis. Ten years on and in 2014, the average selling price of exported bicycles in 2014 was 306% higher than in 2003. During this period, the export value of bicycles went up by 295% and the export value of components increased by 363%. This has put Taiwan at the forefront of the global bicycle supply chain.
The water purification equipment industry in Taiwan established W-Team in 2015. It was initiated by Fluxtek and joined by over 10 companies across the domestic supply chain, from OEMs to ODMs. This has contributed to the gradual development of the supply chain, with the ambition to become the largest OEM country in the world. Member companies include manufacturers of parts and components such as booster pumps, transformers, plastic injection moulds, activated charcoal powder, filter cartridges, and seawater desalination.
Below is a snapshot of the supply chain distributions of competitive components and materials in the global water purification equipment industry:
Turkey: In-line filter cartridges, filter housings, plastic injection moulds
U.S.: deleading agent, materials for heavy metal removal, reverse osmosis (RO) membranes, LED UV disinfection lamps
Iran: polypropylene pleated (PP) filter cartridges
China: reverse osmosis (RO) membranes, RO pressure tanks, PP) filter cartridges, carbon block filters, booster pumps, quick couplings
Taiwan: RO pressure tanks, booster pumps, gooseneck faucets, water separators and other non-iron metal components, electronic control, quick couplings, LED UV disinfection lamps
Korea: hollow fiber ultrafiltration (UF) membranes, vitamins (specially for shower filters to remove chlorine), quick couplings
Japan: calcium sulfite (specially for shower filters to remove chlorine), activated carbon fibres, hollow fiber ultrafiltration (UF) membranes, electronic control
III) Types of Residential Water Purifiers
Residential water purifiers are divided into the purifiers for drinking water and the purifiers for non-drinking water.
1. Purifiers for drinking water
1.1. UV disinfection
The wavelength of UV disinfection lamps comes in the 250nm~260nm range and serves as great germicidal effects. This wavelength destroys chromosomes and achieves photochemical reactions.The tubes of UV disinfection lamps are made of quartz glass. As the price of LED UV disinfection lamps continue to fall, their useful lives are longer than quartz glass and the design is more compact, LED disinfection lamps will replace the UV disinfection lamps (made of quartz glass) soon. Both models boast 99.99% bactericidal activity, and the treated water is safe to drink.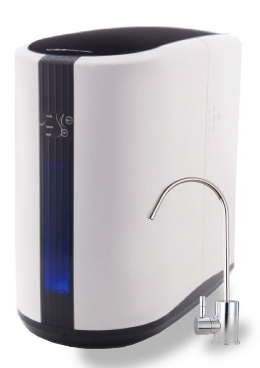 2. Hollow fiber ultrafiltration (UF) membranes
This type of filters works by forcing water through a semipermeable membrane, at a pore size of 0.02~0.1um.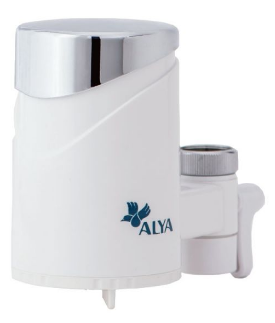 3. Ceramic water filters
The filter works as a siphon, typically made of diatomaceous earth with ceramic sintering. The filtering efficiency is high, both the production cost and the energy consumption are low. The pore size of a ceramic filter is typically within 0.1um, sufficient to filter out bacteria and make water safe to drink.
Ceramic filters are used outdoors and popular among mountain hikers. They are easily cleaned for repeated use.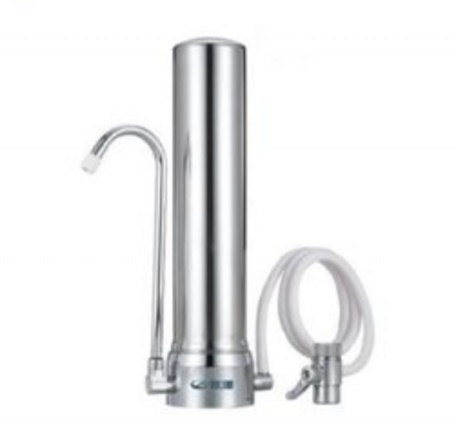 4. RO (reverse osmosis) water filters
RO (reverse osmosis) water filters treat raw water (with a physical method) and produces purified water, without any additive. There are two types of RO water filters: one for home use, and the other for laboratory use. The latter can meet the laboratory requirement for purified water.
RO can achieve desalination rate at 94-98%. It can remove calcium ions, magnesium ions, bacteria, and heavy metals, to make drinking water.
High-volume RO water purifiers have been taking the Chinese market by storm over recent years. This type of systems uses residential-grade membranes with an output of 500-800 gallons. This saves the cost and space required for water storage tanks and avoids the problem of secondary pollutants. The water output is large enough to ensure freshly purified water for drinking.
5. Purifiers for non direct-drinking water
5.1 Water filter jugs
The filters are typically made of ion-exchange resins and activated carbon. Better ones use the low-sodium version of ion-exchange resins and silver-impregnated activated carbon (to suppress the growth of bacteria).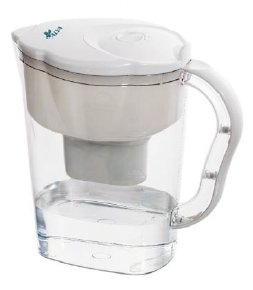 5.2. Activated carbon water filters
They come in designs on-the-counter, below-the-sink, or at-the-faucet. The filters are made with activated carbon.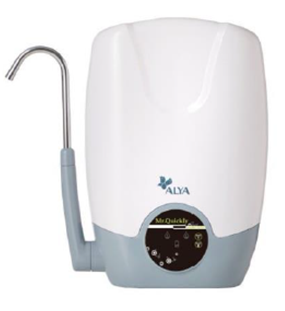 5.3. Water softeners
Water softeners usually use ion-exchange resins. The whole-house design uses positive ions (usually sodium) in the resins to exchange calcium and magnesium in water for softening purposes. The exchange capacity of iron-exchange resins is limited. Once it is close to saturation, it is necessary to use salt for regeneration to restore exchange capacity.
IV) OEM/ODM Qualifications and Characteristics in the Water Purifiers Market
There are few markets with qualified OEMs working for global brands. To win orders from leading brands, OEMs and their local supply chains must have the following capabilities:
The supply chain for water purification equipment in the country should be comprehensive. This ensures fast deliveries, prevents the increase of unit prices, and options for OEM suppliers.
Quality of OEM products
Willingness and ability to undertake low-volume, large-variety orders
Fast deliveries
Reasonable prices
Respect and protection of intellectual properties for products/services in the country and by local players
Recommended reading: https://ppt.cc/fzKJ2x
V) Markets with Qualified OEM/ODMs for Residential Water Purifiers

Currently, only the OEM/ODM companies in Taiwan, Korea, China, and Turkey meet all the above-mentioned six requirements.
Strengths of companies in Taiwan: water dispensers, water purifiers, completely built units (CBUs) of water purifiers, parts/components, LED UV disinfection lamps, smart panels, metal components processing, plastics and rubber moulding
Strengths of companies in Korea: product design, RO membranes (from materials to finished goods), water dispensers, smart panels, plastic injections
Strengths of companies in China: RO membranes (reprocessing), water softeners, hollow fiber ultrafiltration (UF) membranes, metal components processing, smart panels
Strengths of companies in Turkey: plastic filter flasks, filter cartridges, water purifier casing, booster pumps, RO machine assembly
VI) Hottest Markets for Water Purification Equipment
The following 12 markets are the largest for water purification equipment. They are either big in size, price competitive, pioneers in technology, or have a comprehensive supply chain with government support. The author frequently visits these 12 countries and know well about these markets.
1) Turkey
(1) Turkey as a troubled country
Newspapers and magazines are full of stories about the policy uncertainty of the Turkish government over recent years. Since the sovereignty adopted a presidential system, policy transparency and predictability has been reduced. This combined with dramatic depreciation of the Turkey Lira and a high consumer price index has weakened the confidence of investors. Both the current account and the financial account have been negative. The balance of foreign reserves dropped, and foreign debts as a percentage of GDP has gone up.
Although all news about Turkey is negative, the local market of water purifiers does not seem to be adversely affected by foreign debts, fiscal deficits, or COVID-19. An interesting data point is here: Company A in Turkey has purchased a total of 175,080 RO pressure from Taiwan from December 2019 to August 2020. The Turkish market for water purifiers still shows great potential.

(2) SWOT analysis of the Turkish market for water purification equipment
Below is a table for a SWOT analysis of the Turkish market for water purification equipment. The number of strengths is higher than the aggregate of weaknesses and threats. This suggests the rapid growth of the market for home-use water purifiers in Turkey.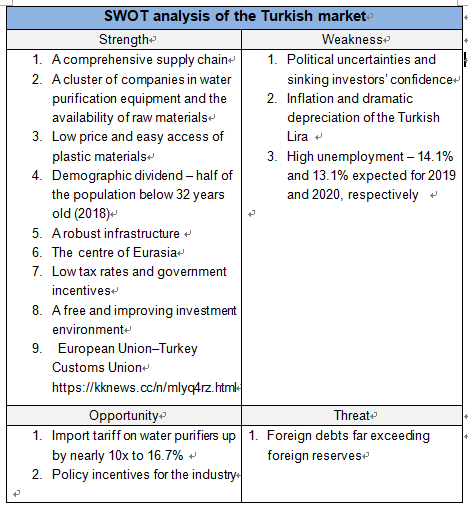 (3) Key issues for entering the water purifiers market in Turkey
3.1 About investing in production facilities
Based on the above list of competitive advantages, the outlook for investment in production facilities remains positive.There is no control in foreign currencies. Capital movement is free.Turkey is the bridge between Europe and Asia. It serves as the springboard into Central Asia, Middle East, and North Africa.Turkey is a member of the European Union Customs Union. This helps to enter the European market.There is a cluster of supply chain companies in Turkey, so setting up production facilities will not be costly. It also ensures time to market.Although prices are competitive, the demand for the standard RO purifiers remains strong in Turkey. Investments may be made in this segment.
3.2 Advice to new brands entering the market
To protect the domestic water purifiers companies, the Turkish government has raised the import duty from 1.7% to 16.7%. With over 40 domestic brands in this market and given the consumers' behaviour in the home-use market, prices are the biggest consideration. There are also over 20 foreign brands in this crowded market. New entrants from overseas are advised to think carefully before making inroads to the Turkish market.

(4) Popular brands in Turkey
Domestic brands:
Hazar、ESLİ , Frizzlife, APEC, Express, Waterdrop, Simpure, Home Master, Brondell Circle , FS-TFC, Aquatic, Rinkmo, Geekpure, Hydro-Logic, PUCRT,Genuine, Yescom, AquaLutio, Watergeneral, Clear Choice,Global Water ,Puroflo, Nakii,ZeroWater,LifeStraw,AquaBliss,Epic pure, Fette,
WINGSOL, Hskyhan, WATEN, HOSUN, AquaFresh, CLEAR2O,
Aquagear, FROSTY H2O,

Foreign brands:
Brita, Whirlpool, RKIN, iSpring, Aquasana,Watts, AUGIENB,
LYUMO,Brio, aibileec,Pur, CuZn,LEVOIT,Culligan, GE,
LAKE,ESOW, Pure Source, Samsung, AO Smith