2020 Global Water Purifier Market Analysis and Forecast (III)
2020.08.09
9) Taiwan
(1) Current status of the water purifiers industry in Taiwan
The water purifiers industry in Taiwan started in the 1970s and rapidly grew since the 1990s. In the early days, the industry focused on processing and assembly activities in the midstream. Almost fifty years on, the industry continues its pursuit of materials and components in the upstream and sales and services in the downstream. Up to the present, there are about 300 companies in Taiwan forming a comprehensive supply chain, with 25% of the players involved in material manufacturing and trading in the upstream, 25% in assembly activities of the midstream, remaining 50% sales and distribution in the downstream.
(2) Complete supply chain in Taiwan
The water purification equipment industry in Taiwan covers all the value chain activities, from upstream, midstream to downstream, equipped with core knowhow in the filtering technology, R&D and innovation, industrial design, production & assembly, quality control, OEM/ODM, to sales and distribution.
(3) Continued growth in Taiwan's export of water purification equipment
The export value of water purification equipment increased from US$180 million in 2006 to US$417 million in 2019, a growth of 2.32x during the period of 13 years. These numbers demonstrate the competitiveness and potential of water purification equipment for home use made in Taiwan.
Below is a list of data for the water purifiers market.
Taiwan is the best option for outsourcing partnerships when it comes to home-use water purifiers.Water purification equipment is an industry with unlimited potential.The global competition will only intensify.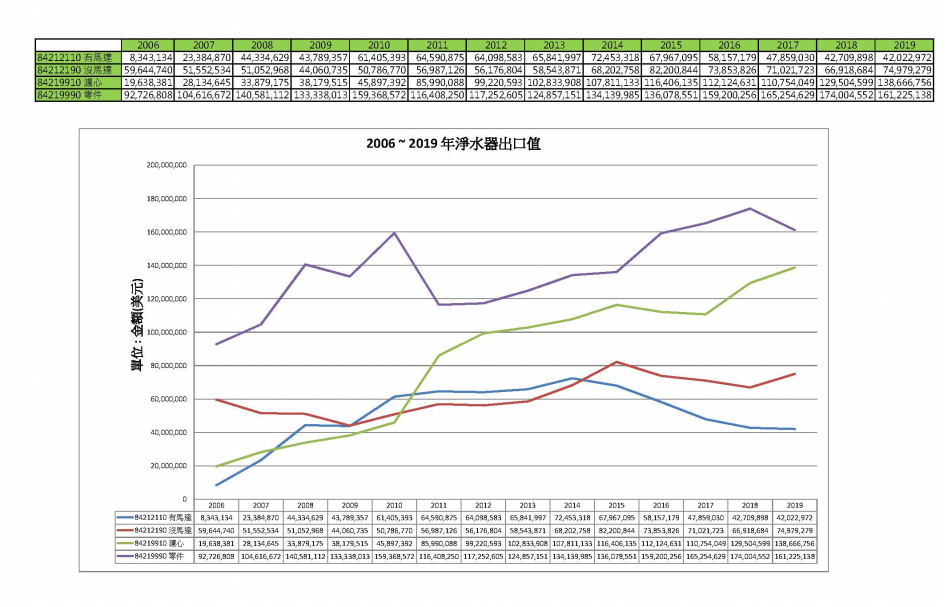 Source: Import/export statistics from the Bureau of Foreign Trade of the Ministry of Economic Affairs
(4) Abundance of basic materials for water purification equipment
Taiwan's technology in performance textiles is a source of high-quality and price-competitive filters for water purification. Taiwan's strengths in smart panels and electronic engineering are the key to the upgrade of home-use water purifiers.
In the 1990s, many industries in Taiwan moved to China to set up production facilities. The water purifiers industry was no exception. This includes companies such as Multiply, Kemflo, KSW (King Sky Water), Hantech, ACUO, and Deng Yuan.
After the trade frictions between China and the U.S. under the Trump administration, manufacturers doing business into the U.S. have been accelerating their exodus from China to avoid punitive tariffs and weaker competitiveness. The income per capita in China has increased from $900 to over $9,000 over the past two decades. The manufacturing costs in China has also been rising. As a result, the water purification equipment makers from Taiwan are returning home or move to South East Asia.

(5) SWOT analysis of the Taiwanese market for water purification equipment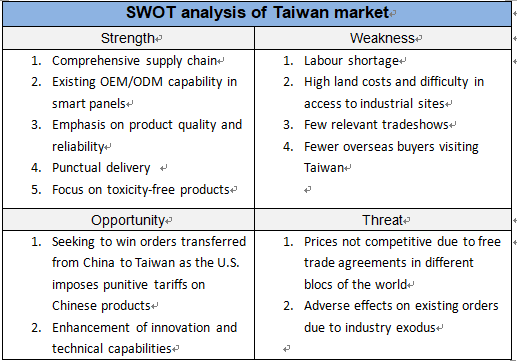 (6) Forecast for the water purification equipment market in Taiwan
The incident of lead water pipes in October 2015 triggered concerns for water safety. In addition, food safety problems emerged one after another. As a result, the market size in Taiwan reached NT$2.85 billion in 2016, up dramatically by 21% from 2015.
It is expected that more than 87,000 under sink filters will be sold during the year, with the market size totalling US$4.5 million.(7) Electronics heavyweights set eyes on the high growth of the water purification market
It seems everybody in Taiwan realizes the potential of the water purifiers market. Many listed companies join the bandwagon by investing heavily in the development of filter materials, design of complete units, research of LED UV disinfectant lamps, and functional water materials. Marketers are also looking for manufacturers for outsourced production.
Some of the big names are as follows:
NKFG Corporation (a member of the Formosa Plastics Group)
Innolux
OPPOTECH
Micro-Star International
AU Optronics Corporation
(8) Key issues for selling home-use water purifiers in Taiwan
1 About investing in production facilities
The profit margin is declining in the home-use water purifiers of Taiwan. The domestic market is simply limited. Although the supply chain is comprehensive, most companies rely on exports for over 90% of businesses. Meanwhile, there is a shortage of factory operators, the land cost is high, and the environmental protection laws and regulations are increasingly stringent. Investing in production facilities in Taiwan at this point in time does not seem to be a good idea.
2 Advice to new brands entering the market
There is a long list of brands in the water purifiers market of Taiwan. The advertisements of well-known international brands are everywhere. The Taiwanese people can accept good quality, slightly more expensive products from overseas.
Foreign brands:
3M, Everpure, AO Smith, BWT, Coway, Brita, Doulton, Philips, Panasonic, Toray, Amway, Mitsubishi, Franke,Pureit, Laica, LG, GE, Honeywell, Lux, Watpure, Toppuror, XiaomiAlthough the competition continues to intensify, it is not yet too late for new entrances to enter the Taiwan market with differentiated products, correct positioning, and precise marketing strategies.


Domestic brands (with own factories, channels, and brands):
ALYA, CHANSON, Water Nice, ACUO, Great Idea, Yen Sun Technology, Sakura, Buder, Hao Hsing

Content of this article is free to use, but please attribute the source.
Author: Rodger Lin, Easywell Water Systems Inc.
For more information, please visit https://ppt.cc/fzKJ2x
10) Korea

(1) Snapshot of the water purifiers market in Korea
Before 1997, the water purifiers market in Korea was dominated by multilevel direct sellers. The momentum for continued growth was underpinned by a vibrant leasing market.
There are over 100 manufacturers of components and complete units of water purifiers in Korea. These companies are capable of developing new products and they share information, so that they can develop products with interchangeable parts/components.
(2) Leasing market still hopeful in Korea
There are two changes in the water purifiers market of Korea: (1) large water dispensers gradually becoming compact, with filtering functions; (2) leasing market continuing to grow.
(3) Functional water purifiers popular in Korea
Korean people wanted to have clean and safe water. Now they pursue functional water that is beneficial to health. To meet this demand, companies are starting to produce water purifiers that provide carbonated water, pure water for coffee making, hydrogen water, alkali ion water, and energy water.
The Korean market for water purifiers is dominated by UF (ultra-filtration) products, accounting for 55% of the market. Most of this 55% is sold via leasing. RO products have the remaining 45% market share.
The filtering method is gradually shifting from four to five filters to two to three filters, as filtering functions are integrated.
The Korean government authorizes the Korea Water Purifier Industry Cooperative (KOWPIC) as the regulator for the market by conducting quality inspections and conferring quality certifications to water purification products.
(4) Development of functional water filters in Korea
Both Korea and Japan saw a relatively early development of functional water. There are numerous manufacturers of hydrogen water purifiers, such as Ioncares, Ionvida, Magiccos, and Paino. The producers of materials for alkali water and vitamins for dichlorination are also competitive.
(5) Key issues for selling home-use water purifiers in Korea
1 About investing in production facilities
Korean manufacturers of components for home-use water purifiers are competitive. Handok and Altwell produce carbon blocks; Polymem, Toray, CSM and Para UF filters; DM Fit, KQ and McCoy push-in fitting of quick couplings. Korean vendors are of high calibre in design, production, assembly, and marketing. This combined with high wages makes it unlikely to enter the market by setting up production facilities unless you go for full automation.
2. Advice to new brands entering the market
The patriotism of Korean people is evidenced by their love for Korean products. This may be changed easily. It will not be easy for any new brand to make inroads into this market.Popular brands in Korea
Foreign brands: Brita, Everpure, 3M, Laica, Calligan, BWT, Philips,Jet soda Stream (from Israel)
Domestic brands: Pureal, Sejin Aqua, Waterpia, Claro, Ruhens, Hyundai, Wonbong, Filtertech,Wells, LG, OKwater, Coway,COMS, OKO, KC, ICEVAN,Cuckoo, SK Magic
11) India

11.1 Demographic dividend
The average age of the Indian people is only 29. Those below 35 years old account for 65% of the population. Those above 65 years old are only 5% of the population. These numbers speak of the demographic dividend in India.
11.2 Drinking water quality in India
Anybody who has been to India will know not to drink the water from the tap ever. Even eating the fruits washed with the tap water will end up with diarrhoea. The sight of local people gulping water cannot help people wonder how to they never get sick.
The study from Water Aid, an international non-profit organization, suggests that the quality of water in India is the worst in the world. The Indian people are not immune to poor-quality water. Tens of millions of people fall ill each year from drinking polluted water. The number of child deaths caused by poor water quality is hundreds of thousands. Poor quality and scarcity of water in India naturally leads to demand and attracts continued investments from both public and private sectors, hoping to resolve this essential problem.
Whilst everybody was aware of the water quality problem, not all consumers in India could afford water purifiers. Local people mostly resorted to two methods: (1) drinking cooled water after it has been boiled; (2) use of simple tablets to purify water.
However, Indian companies have been working over recent years with global heavyweights to gradually reduce the prices of water purification equipment. As a result, the penetration of water purifiers has gone up in the middle-class households. To deal with water scarcity, these purifiers come with large capacity in storage, so that consumers will have water in case of supply disruptions.
A 2011 survey by the Commerce Development Research Institute on the demand in emerging markets for quality and price competitive products suggests that about 65% of the middle-class households in India have water purifiers or relevant machines. The market for water purification equipment has unlimited potential and business opportunities.
11.3 Growth and forecasts of the water purifiers market in India
According to the report "Forecasts and Opportunities for Global Water Purifiers: 2018", the market size increased at a CAGR of about 10% in 2013-2018. The Indian market is poised to become the biggest in Asia Pacific given its population and poor quality of drinking water.

11.4 Market and forecasts for commercial-grade water purifiers market
The outlook for commercial-grade water purifiers market is also optimistic. The report "Global Industrial Water Purifier Market 2017-2021" forecasts a CAGR of 5.68% for the market in 2017-2021. The Indian market is expected to show a CAGR of 25% of these five years, higher than the average growth in the world. The Indian market is set to become an important market, next only to China.11.5 Main products in the India market
There are three mainstream types of water purifiers in the India market:
UV disinfection water purifiers,RO water purifiers,Chemical-based water purifiers
11.6 Tariffs on water purifications in India
The Indian government imposes four duties on water purifiers, at a total tax rate of 26.5% (detailed in the table below).

11.7 Certifications and standards in the Indian market
Each government typically sets its own standards for drinking water. The Indian government has formulated the standards called BIS Standards (BIS = Bureau of Indian Standards).The two popular inspection standards in India are NSF certificates, and WQA gold seals.
11.8 Internet penetration in India
The size of Internet users in India is the second largest in the world, following China's 650 million. According to 2019 Internet Trends Report, the Internet coverage in India is 12%. India has the world's second largest Internet population, next to China (21% penetration).
11.9 Channels for purchase of water purifiers in India
The results of the questionnaire survey below show that online shopping exceeds brick-and-mortar channels by 10% for the water purifiers market in India.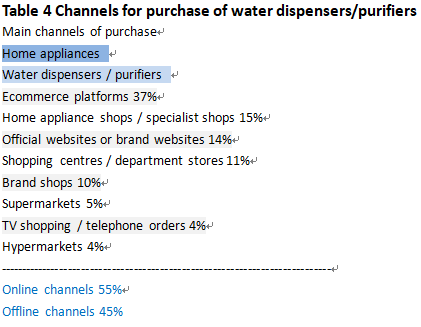 Sample for water dispensers / purifiers: No. of interviewers (744)
Q158: Where do your purchase water dispensers / purifiers? (one option only)
Data source:
https://www.taiwanexcellence.org/upload/uploads/files/nelson/108_India_U&A.pdf#page30
11.10 Major ecommerce platforms in India:
UrbanClap,Infibeam,Infoedge,BookMyShow,Yatra
11.11 SWOT analysis of the Indian market for water purification equipment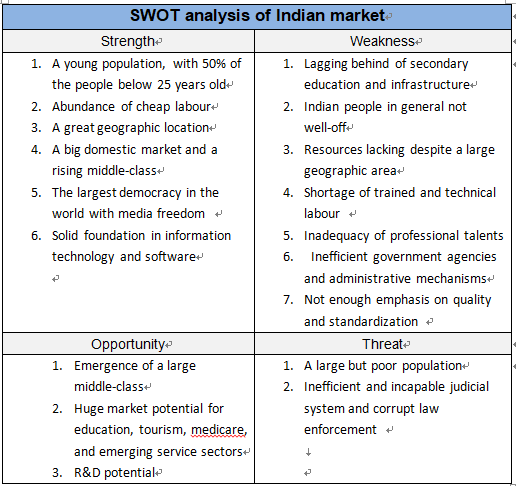 11.12 Popular brands in India
Foreign brands:A.O. Smith, HUL PureIt(Unilever),Culligan,
Domestic brands:Royal Aquafresh , TATA Swach, Eureka Forbes, AMPEREUS,KENT, Ruby, Lukzer, Grand Plus, Voltas, Butterfly, Prestige, Subtle Selection, Konquer TimeS,WaterScience, Watamate,Aqua Grand+, Generic , ORILEY, NAMIBIND, Konvio Neer, Eco365, Chirag, Elegant Casa, KRPLUS, AQUA DOVE, DE Fresh Aqua, Konka, Glassiano,