Analysis of Five Water Purifier Industry Countries - Turkey, Vietnam, India, Russia and Poland, in 2023
2022.10.28
1. Introduction
In the past three years, due to the spread of new coronavirus from the end of 2019, visits and contact opportunities between OEMs and buyers have stopped, as have various commercial physical exhibitions. Each OEM can only ask for blessings and exhibit their talents in order to find new business opportunities.
On October 13, 2022, the Ministry of Health and Welfare made the decision to allow foreign nationals to once again come to Taiwan without quarantine, which brought a glimmer of hope to OEMs in the water purifier industry. However, due to the past three years, global competition and operating pressures, in addition to the super competitor that is mainland China, means that there are now many more international competitors for the business.
EX:
(1) Turkey
(2) Vietnam
(3) India
(4) Russia
(5) Poland
The development and progress of emerging countries in the water purifier industry in recent years is obvious to all. With their large domestic markets, abundant manpower, and low labor costs, they are sure to have a considerable impact on Taiwan's OEM factories.
2. Distribution of global emerging water purification equipment production plants and channels.
There are several countries in the world that have a particularly high demand for RO reverse osmosis water purifiers. In Europe, Spain is the main country, followed by Italy. In Africa, Egypt is the most popular, and in Asia it is likely to Vietnam, with Iran being the main country in the Middle East, followed by Dubai, and then Turkey, which straddles both Europe and Asia on its left and right, and which has a considerable market demand for RO pure water machines.
In Eastern Europe, Russia and Poland are the two countries most interested in the water purification equipment industry. These two countries have transformed themselves from importing all of their water purification equipment more than 10 years ago to opening factories and manufacturing facilities to produce water purification equipment and components by themselves. Therefore, almost every company is scrambling to join the export business, making this already competitive environment even more bustling.
We will now discuss and analyze these competitor countries:
3.

Analysis of international water purification equipment competitors
1. Turkey
The author has been fortunate enough to visit the Fil-Tek factory, which covers an area of about 8,000 square meters, specializing in OEM production of various parts and accessories for RO pure water machine, and which has also invested in pure water machine assembly.
The Turkish company Fil-Tek is predominantly an one-stop production model, ranging from the production of metal RO pressure drums, pressurization motors, film processing... and other key components, to the production of filter elements, filter bottles. Fil-Tek has been working hard towards reducing costs. The person in charge claimed that there was only one R&D engineer in the entire company, and the author could see that their management expenses were quite low.
Statistics on the export of water purification equipment to Turkey from the Bureau of International Trade in the past five years show that the situation has deteriorated from 2,200,000 US dollars in 2017 to less than 100,000 in 2021, a fall of 95.5%.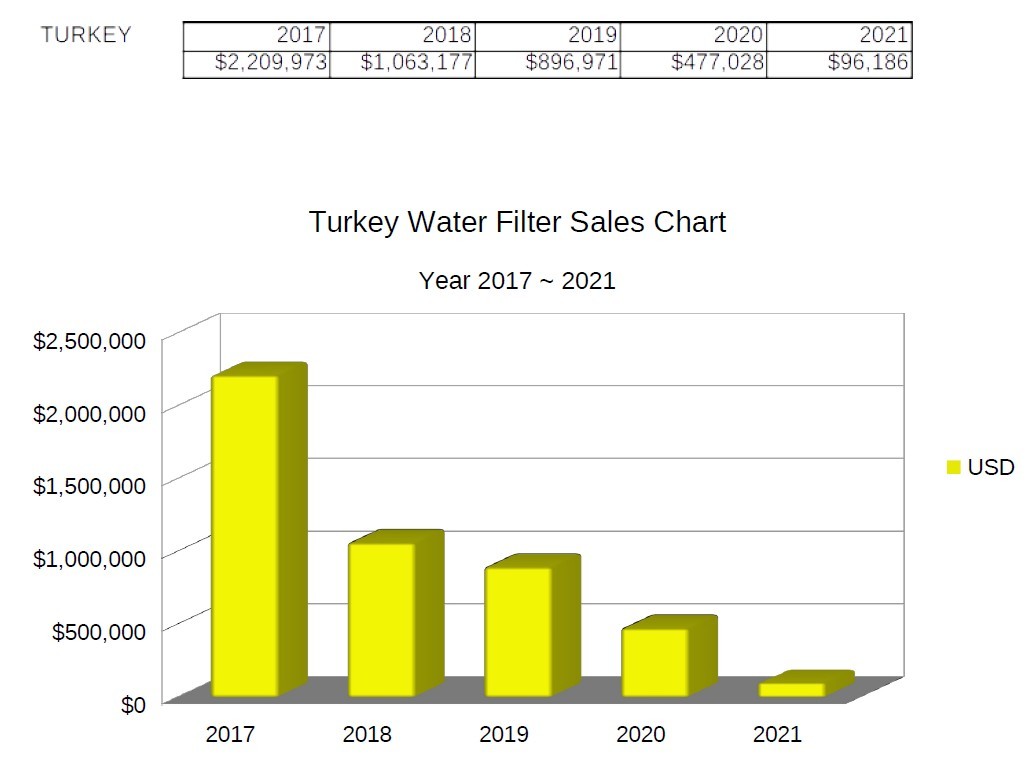 2. Vietnam
Vietnam is another country with an endless market for RO water purifiers and water purifiers. AO Smith, Midea, and South Korea's Coway have all been in the Vietnamese market for a long time. These Vietnamese manufacturers used to have dual identities in that they were importers of pure water machines and manufacturers of home appliances, water tanks, etc. They imported complete machine systems from mainland China and Taiwan, then gradually moved into their own assembly mode, importing key components from Taiwan. It is worth mentioning at this time that the factories of the parent companies of these manufacturers are not small and have allowed them to penetrate step by step into the field of RO pure water machines, which is worthy of reference.
In recent years, price competition within the RO membrane market has been fierce, and the reduction in price has been quite large. One day, if RO membranes with large flow rates are also reduced to prices as low as ordinary household membranes, Taiwan and mainland RO pressurized water storage tank manufacturers will suffer greatly
For more information on the water purification market in Vietnam, please see: [ Vietnam] Water Purification Market News
Statistics on the export of water purification equipment to Vietnam in the past five years by the Bureau of International Trade show that the situation is going a similar way, from bad to worse: going from 5,500,000 US dollars in 2017 to 1,130,000 in 2021, a fall of almost 80%.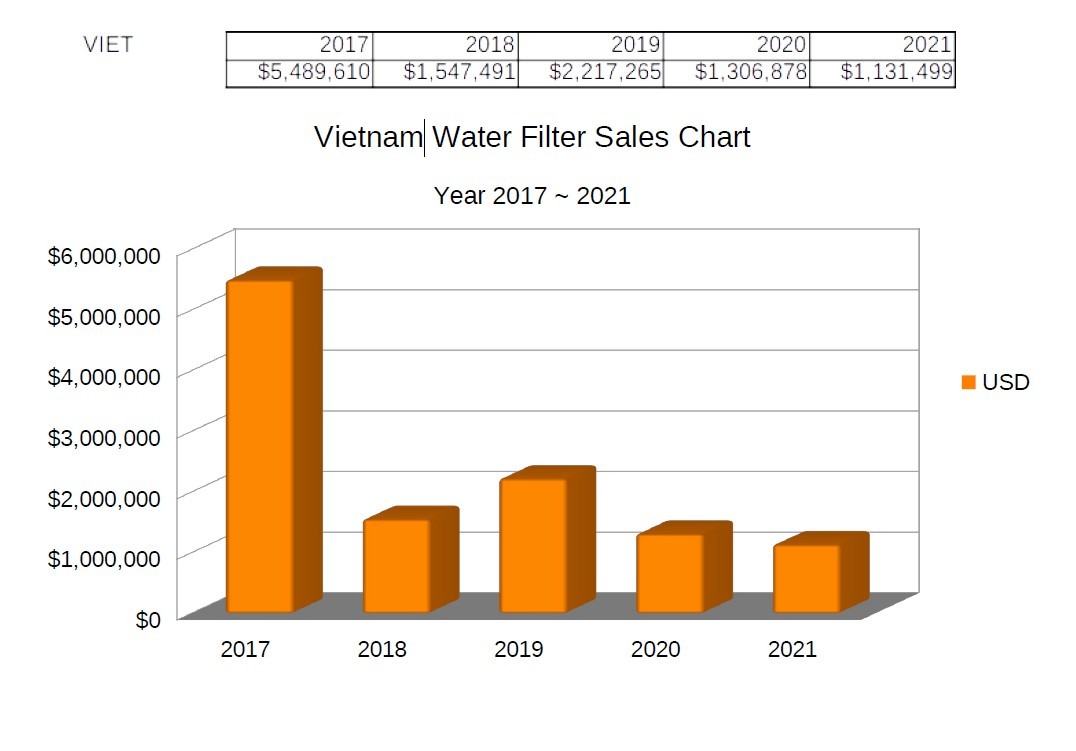 3. India
In addition to setting up a factory in Singapore, the KX Corporation from the United States is also optimistic about India becoming a potential market. Therefore, in order to get closer to this market and to obtain activated carbon raw materials, it has set up a production plant in India to produce large numbers of compressed columnar activated carbon filter elements.
As can be seen, the water purification equipment industry will heat up in more and more countries in the future. The reasons for this are, firstly, the technical threshold for entry is not high. Secondly, this industry does not require a great deal of investment. Thirdly, market demand is increasing. These attractive conditions will no doubt induce greater investment from emerging countries.
In the past five years, Taiwan's water purification equipment exports to India have fluctuated between 300,000 and 500,000 US dollars, which means that, although the export amount is not large, it is stable.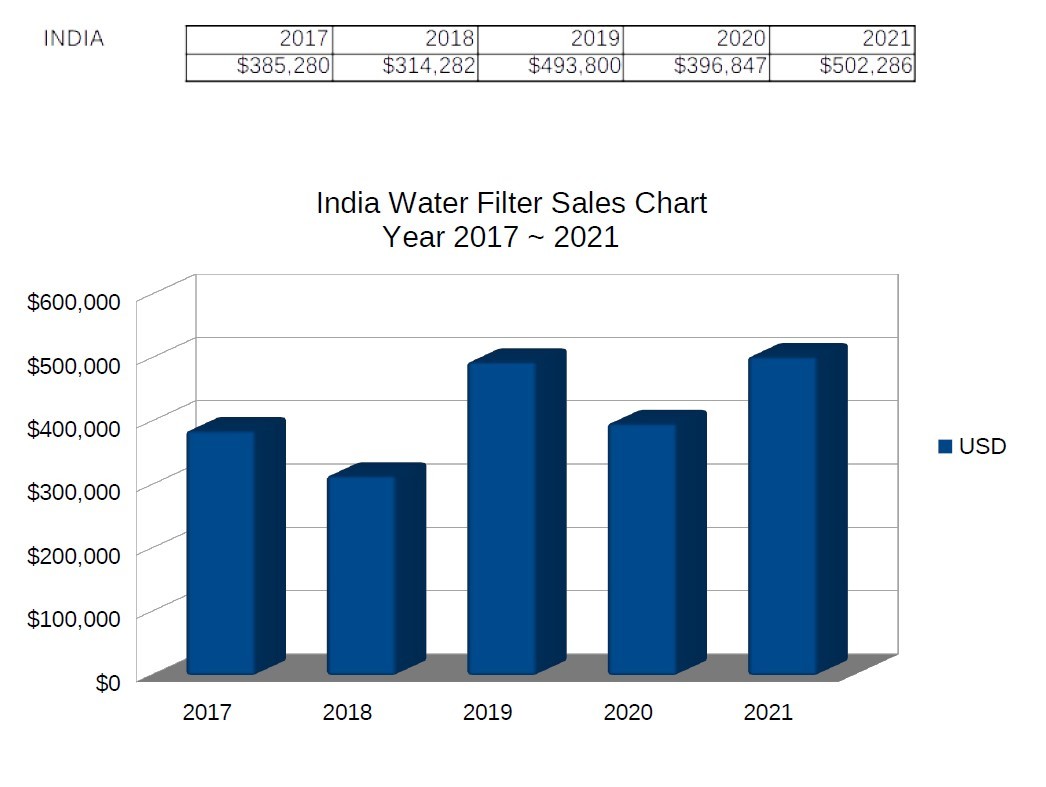 4. Russia
There are several representative companies in Russia which, when established, also adopted advanced imported products to sell locally in Russia. 20 years ago, they imported from Taiwan. Later, due to cost considerations, the orders were transferred to mainland China. Finally, they were involved in their own design, production, and assembly.
Through the export statistics of the Bureau of International Trade, we know that the total amount of water purification equipment exported to Russia from Taiwan in the past five years is not bad, with exports amounting to 1,900,000 million US dollars in 2021:
Listed below are two large Russian companies we have selected to introduce to you: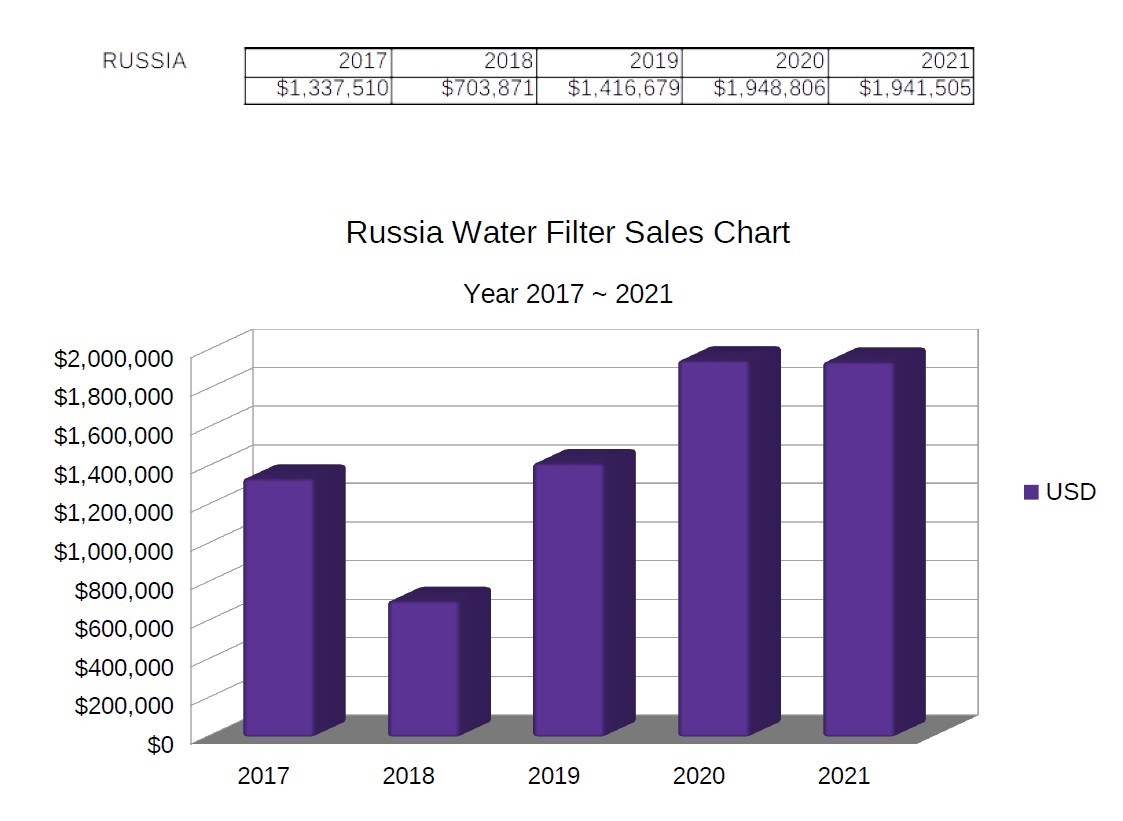 (1) BWT BARRIER RUS (Barrier Water Filter)
http://www.barrierus.com/
Founded in 1993, with about 300 employees, BWT is a manufacturer of household filtered drinking water. Its main products include filter jugs, under-counter water purifiers, and filter elements.
The company later formed a strategic alliance with BWT Group, and changed its name to "BWT BARRIER RUS".
The company's annual revenue is about 26,000,000 US dollars, and it has its own laboratory, logistics system, and warehouse.
Factory compliance: ISO9001
Laboratory passed: ISO 17025
(2) Aquaphor
https://aquaphor.com/
Founded in 1992, with main products being: RO machines, water purifiers (covering household, commercial, and industrial), deionization, filter elements, etc., Applications for these products are: food and beverage, cosmetics, hospitals, testing laboratories, manufacturing, and farms.
Their global distribution network has 27 distribution websites in China, Germany, the United Kingdom, France, etc., with the products being sold to 44 countries.
Raw material suppliers include BASF, John Geist, Mitsubishi, Puraite, etc.
Aquaphor has its own production and R & D teams in the United States, Russia, and Estonia, meaning product design through production and manufacturing is done by themselves. The company has 130 global patents, in line with TUV. NSF and other standards.
Establishment time of each group:
1990 Electrophor Inc. (NY, USA)
1992 Aquaphor (Russia)
2005 Winter Engineering/Aquaphor Professional (Israel)
2006 Zibo Aquaphor (China)
2007 Westaqua-Invest (Estonia)
2013 Aquaphor Poland (Poland)
2016 Aqua Biosan (Romania)


Major Client:Apple、 Intel 、Nestle 、 RD Energy、 Iskar 、 Israel (30 largest hospitals; whole hospital water purification dialysis system; resuscitation department) 、Rosneft、Gazprom 、 KFC、 Siemens FM Logistic 、KAMAZ 、 ORIMI trade Ltd.
To view water quality conditions in various parts of Russia, you can see: [Russian Water Quality Conditions]
5. Poland
The following two companies have also sourced from Taiwan in the past, and are the parent companies of Taiwanese manufacturers. However, now they are competitors.
Poland has not purchased much water purification equipment from Taiwan in recent years. In the past five years, purchases have fluctuated between 32,000 and 98,000 US dollars, with the total amount of exports to Poland being in a vertical decline in the past three years: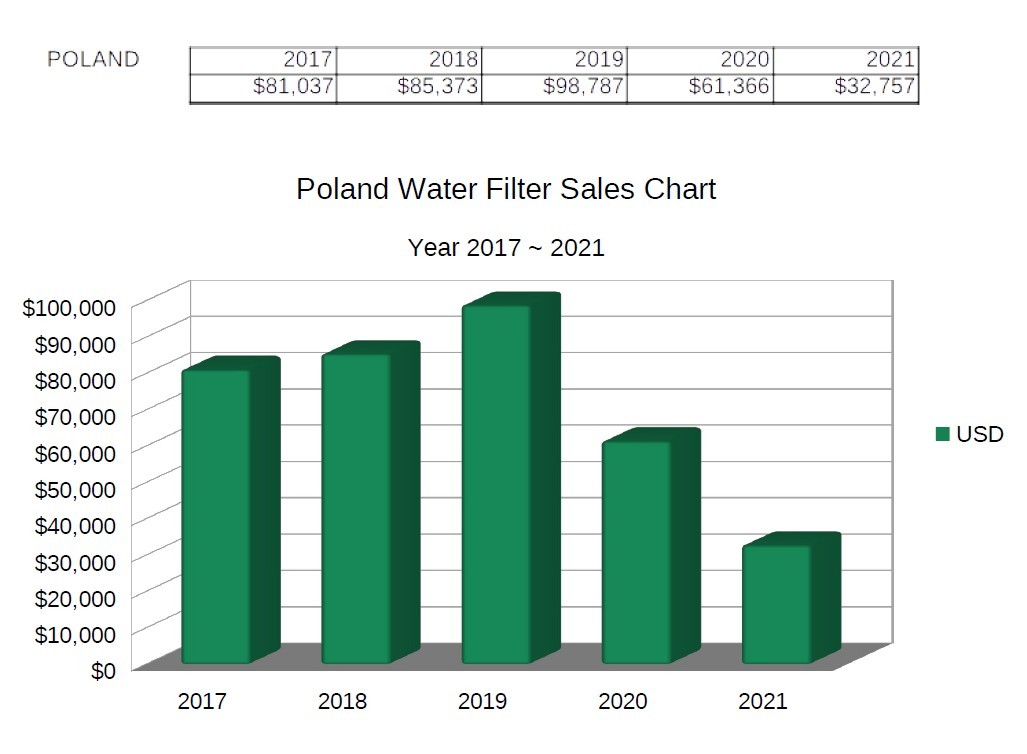 (1) Amii Sp.o.o.
https://www.amii.pl/
The company was founded in 1977 and is headquartered in Warsaw (Lodz), Poland.
Its main products are RO machines, water purifiers (kitchen, home, and bathroom), filters, accessories, etc.
The company's products are exported to 46 countries around the world, including Romania, Germany, Finland, Portugal, and Malaysia, with about 15,000 end customers.
The company has its own laboratory, and its products are certified by: TUV, Low Carbon footprint, BPA free, Porduke Polski,
Brand: blue filter,Fit Aqua, Fit Alco, Fit Narko
The company also operates its own online shop, and the retail channel brand is called "FITAQUA".
(2) Aquafilter Europe Ltd.
https://aquafilter.com/en/
Aquafilter Europe Ltd. is a Polish manufacturer of water filters and water treatment components with its own warehouse and logistics system.
Products: shell, RO, water purifier, filter element (microfiltration, ultrafiltration, and nanofiltration), plus accessories.
The company was founded in Warsaw in 1988.
In 2011, the factory moved from the Far East to Poland.
In 2014, a production line was established in Germany.
In 2017, automated production was introduced, and the production line was extended to Belarus.
Commodity liability insurance of 2,000,000 US dollars purchased

Own testing laboratory

High-bay modern warehouse

product fields include household, commercial, industrial, and medical fields.

Certification: ISO 9001, NSF, PZH
4.How to respond to competition from emerging country entrants
My personal business experience tells me that Taiwanese OEMs should respond to these aggressive competitors by:
Development of new materials


Focus on innovative filter materials, which is an opportunity that SMEs can also choose.

Increase investment in automated production equipment


This can, firstly, reduce reliance on manual assembly and avoid the problem of labor shortages in Taiwan. Secondly, it can stabilize the quality.

One-stop production method


The assembly process for drinking fountains, pure water dispensers, and water purifiers is tedious, and processes such as assembly, testing, gluing, and lubricating with oil are all required in the manufacturing process. The disassembly and subsequent assembly of items in sections is time-consuming and takes up space. Adopting the one-stop production method can not only increase production efficiency but can also enable the detection of abnormalities in the process, which can be eliminated immediately.

Utilize Michael Porter's competitive strategy


"Centralization, differentiation, and low cost" should be carried out. If centralization or differentiation cannot be achieved, focus on low-cost production.

Earn management money
Regardless of whether the economy is good or bad, the only constant rule for operating in the manufacturing industry is to "earn management money." High-profit high-tech industries will one day become traditional industries, and the entry of new competitors will also turn high-tech industries into extremely competitive red ocean markets.
Author:Rodger Lin Oct 28. 2022
「Welcome reproduction,please indicate the resource」